Dog Training for Beginners, and Beyond!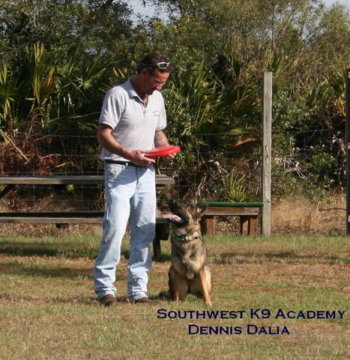 My name is Dennis Dalia, and I'm a full-time dog trainer. I have over 25 years of experience with training dogs and dog owners. I became a full-time trainer and instructor only after many years of study and apprenticeship with world-renowned experts. I currently own and operate a professional dog training school, where I continue to spend countless hours training and studying canine behavior and our interaction with them.
My goal with DennisDalia.com is to provide all my visitors with helpful information, tips, and resources that they have been looking for. You will also find the right dog training products for understanding your dog behavior. Through the years, I have had many of people that call me for dog training tell me that they have purchased books and information online and that they did not find the help that they were looking for when they did that. So I hope to help out anyone that is looking for dog training information, books, videos, and training products that will actually do what you are looking for.
Many Dog Training Experts estimate that the 80% failure rate of people attempting to train their dogs is because of first, not having the right training; and, second, inconsistency in their training program. I have personally witnessed this far too many times.
Here are some of the most popular articles I've written:
2. How to start leash training work with a German Shepherd Puppy.
3. Learning how to handle a new puppy can be challenging.
4. Huskey Training stops biting and nipping
5. How to train your dog for every-day and beyond
7. How one Goldendoodle Dog Owner Trained her Dog In Just Six Weeks
More updates coming soon.
Best success to all,
Dennis Dalia.