Dog Training – Punta Gorda, Charlotte County, Florida – All Breeds – SW K-9 LLC – We Can Train Your Dog!
We specialize in..Dog Training and Behavior Modification & all levels of Obedience Training. 
Are Your Dogs Driving You Crazy? You've come to the right place!
Welcome to Southwest k9 Academy LLC, All Breeds – SW K-9 LLC – We Can Train Your Dog!  Your home for great dog training information and Beyond!
We're here to help you Enjoy Your Dog, and help you solve your dog's behavior problems.
Southwest K9 Academy Dog Training School
What Expert Trainers Say: Many Dog Training Experts estimate that the 80% failure rate of people attempting to train their dogs is because of first, not having the right training; and, second, inconsistency in their training program. I have personally witnessed this far too many times. I have seen people struggle with trying to correct their dog's behavior problems that had been compounded by incorrect or inadequate training. But for those people with the right information and training, I have witnessed success in their dog training.
This enabled them to truly enjoy having a well-trained dog, whether for personal protection or as a member of the family. The difference between failure and success is the right dog training information. One of the things that I hear a lot from people is, that their dog failed training or they got asked to leave because their dog was too aggressive for the class. This happens to a lot of people and there is a very simple reason. You have the wrong Dog Trainer. If you have dog behavior issues, you need to find a professional dog trainer that can give you private training in the proper training methods that you need for your dog or dogs. This is how you will get your dog to be a well-behaved and well-adjusted dog. Dogs Do Not fail at training, people simply GIVE UP before the magic happens.
I always recommend to start with private training first and then go to a group class. This way you have your basic foundation down and have developed the proper relationship with your dog. Going to group classes will teach you how to take your dog training to the next level. This is for teaching you how to control your dog with distractions and learn how to properly socialize your dog and much more.
Is This You?  Most common dog behaviors pet owner are challenged with every day.
Does your Dog?
Jump, Dig, Chew, Bite, Run-away, pulling on a leash, Dog Aggression, People Aggression, or any other Behavior Problems.
You're Benefit when working with us.
Our training will not just show you how to train your dog. But give the education you need for establishing the proper love and respect for building trust with your dog for many years to come.
You'll also learn how to handle any type of training challenges that come your way, and how to solve them. We believe in giving you all the tools you need- so you can enjoy your dog every day and for many years to come, and beyond.
We also offer dog training for beginners who don't have bad behaviors with their dogs, and are looking to get started the right way!  Or you may just be looking to become better with your training to take your skills to the next level…
You are in the right place!
Southwest K9 Academy– will customize training that will work for anyone. Just tell us what you like to learn, and we will do our best to give it to you. How to raise and train your dog for everyday lifestyle.
Our Mission
Southwest K9 Academy custom tailors all dog training programs to fit your needs. We offer nothing but the best training services and support around for our clients. When you book your Free Consultation and Free Demo with your dogs you will see- Professional Dog Trainer Dennis Dalia will teach you how to get results with training your dog.
We give the best hands-on training as possible to all clients with their dogs. Our training is designed to provide training programs that will give you the results you need for a happy, confident, and obedient dog and satisfied and happy owners too. This is why we customize a training program that not only trains your dog quickly but also teaches you how to control your dogs at all times.
Learn The Secrets That The Pros Use Every day To Get Results…
So, what are you waiting for?  Don't be shy. It's your time to shine. Let's Get Started- Signing-up! Can't wait to meet you and your dogs!
The best way to connect with me, is to sign-up here! I love to hear from you.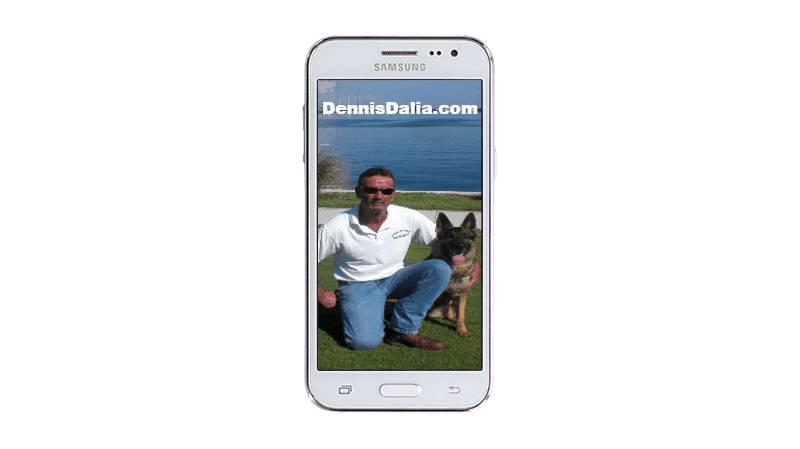 Southwest K9 Academy has been serving these surrounding areas for over 25 years Punta Gorda, Charlotte County, Fort Myers, Naples Florida. Call Today. 941-639-5111.
Read What Our Clients Say!
"Golden Retriever Training"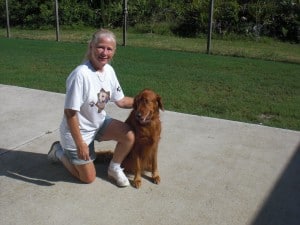 My Golden Retriever, Amber, has been going to rally trials with AKC and has 4 titles: Novice, Advanced, Excellent, and Advanced/Excellent. She is currently working on getting her second Advanced/Excellent title. We have been working with Dennis, a professional trainer, and he has really helped us get these titles. Thank you, Dennis Dalia.
"German Shepherd Training"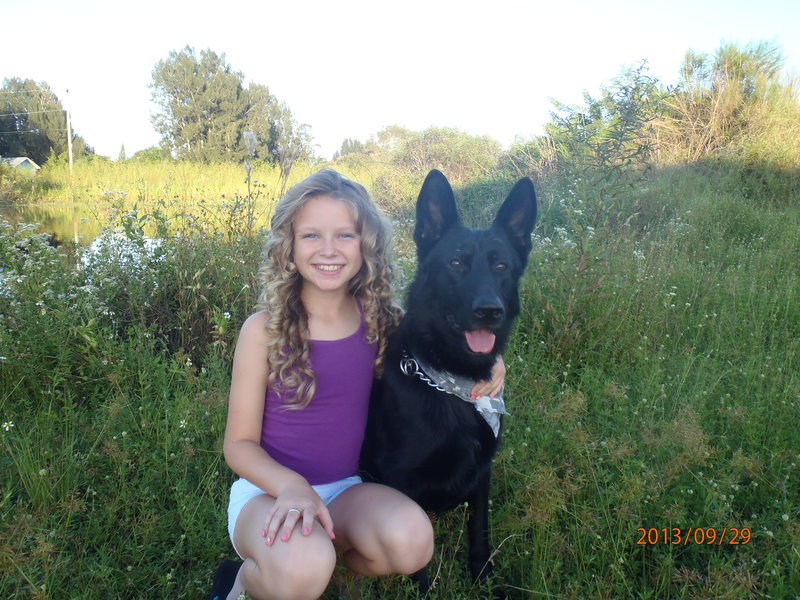 Courtney with her best friend Zeus. Courtney is nine years old and does training with her family's German Shepherd, Zeus. It is important to teach children how to keep leadership when owning K-9′s. Courtney's mom, Sandy, has done a great job teaching her kids to take part in training with their dog, Zeus. German Shepherds make great family dogs with the right training program. When Sandy started training with Dennis, she wanted to make sure that the training she was doing in class would not be undone when Zeus was not with her. She also wanted to make sure that Zeus didn't just listen when she was around. To accomplish that, she taught her family the correct commands and what to do to maintain a leadership position with the dog. This is very important, especially when the dog weighs at least 20 pounds more than the one giving the commands.
"Pitbull Training"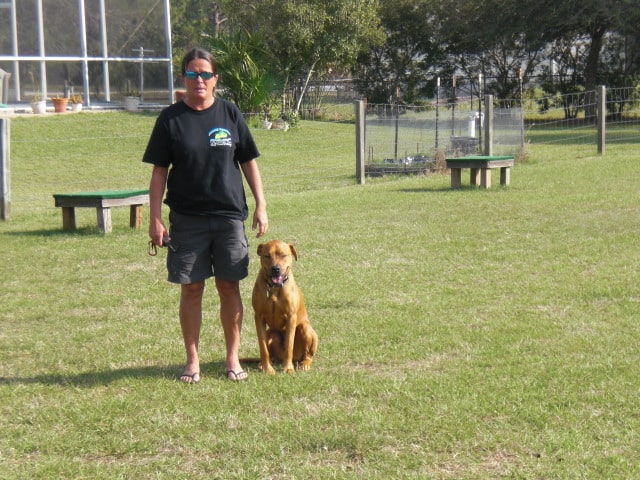 Dennis, see what you think. I contacted Dennis for obedience training when I first got my puppy from a kill shelter. I knew he would be a bigger dog and also knew I didn't have the skills to properly train him to be a well-adjusted dog. Dennis guided me to the point that my dog can go anywhere with me.
"Belgian Malinois"
Hello Dennis, Just wanted to tell you to thank you for all the great training you taught us. Our dogs are so well behaved in public places, on the leash, and off the leash. To anyone reading this, we highly recommend Dennis's services for any puppy or grown up dog. If you are looking for a good trainer that understands dogs, then hire Dennis. He will help you see things before they become problems. Sincerely Alex & Amy and Cleo(Belgian Malinois) & Scrappy(Dutch Shepherd).
"7 month old-German Shepherd Puppy"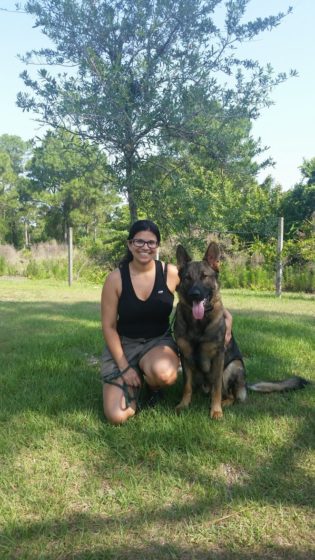 Without Dennis, I don't know what kind of furry parents we would be, because like he says he isn't training your dog, he is training you. Your dog already knows what to do, knows what buttons, and limits to push, it's your jobestb to know how to react, how to take charge, how to be alpha, and to become the owner that you can to provide the best, healthiest, fulfilled, happy, long life for your pet. Because they will love you unconditionally without question every second of every day.
Thanks, Dennis Dalia.